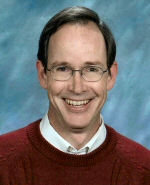 Meet the Chaplain
The Rev. Michael Fincher began serving as the Chaplain for the Episcopal/Anglican Campus Ministry @ UCLA in August 2006. He has lived in Southern California since he was 16. He earned a BA in Social Ecology (emphasis on Planning and Public Policy) from UC Irvine, and a Master of Divinity degree from Seabury-Western Theological Seminary in Evanston, Illinois. Prior to entering seminary and ordained ministry, Michael had a career as a transportation planner, working for an environmental consulting firm in Riverside. He was ordained as an Episcopal deacon on June 3, 2006, and was ordained as a priest on January 6, 2007.
In addition to serving as Chaplain at UCLA, Michael is the Curate at St. Alban's Episcopal Church in Westwood. His non-parish activities include working with the Kaleidoscope Institute, an organization dedicated to the work of building inclusive communities. He is also interested in studying Benedictine spirituality and its applicability to secular life. He enjoys traveling and cooking, and relaxes by watching TV crime dramas, such as Law & Order and CSI. He lives in Los Angeles with his cat, Akasha.
Michael's office is located at St. Alban's Episcopal Church (580 Hilgard Avenue), and is accessible from the patio in front of the church. While he does not maintain specific office hours for the chaplaincy, Michael is generally in his office Tuesday through Friday. When not in his office, he is likely somewhere on campus, such as Bruin Walk or in Ackerman Union. Feel free to stop by to see him, or contact him for an appointment. He can be reached via e-mail at episcopal@ucla.edu or by calling 310.208.6516 x26. Also visit his blog, Father Fincher's Freeway of Faith, to read his sermons, see what mysteries of the universe he has been pondering, or for updates on what's been going on with the Episcopal/Anglican Campus Ministry @ UCLA.
Where'd that other chaplain go?
Updates on chaplains of the recent past...
The Rev. Ruth Monette, chaplain from 2004 to 2006, has moved to Vancouver, British Columbia, to be with her partner. She hopes to continue her ministry in the Anglican Church of Canada. You can keep up with what's going on in her life by checking out her blog.
The Rev. J. R. Lander, chaplain in 2003-04, now lives in Seattle, Washington.
The Rev. Mark W. Speeks, chaplain in 2002-03, now serves as Assistant Priest at St. Mary's, Kilburn, and St. James's, West Hampstead, in the Diocese of London, England. Visit the website of the parishes, as well as Mark's website.
The Rev. Winnie Varghese, chaplain from 1999-2002, is now the Episcopal Chaplain at Columbia University in New York City.