Sunday Evenings
5:00 p.m.
(when UCLA is in session)
Evening Prayer in
St. Alban's Chapel, followed by a free home-cooked dinner
Visit Our Blog
Click here
Weekday Eucharist
A service of Holy Eucharist is held each Wednesday at noon in St. Alban's Chapel.
All are invited.
See full schedule of St. Alban's services.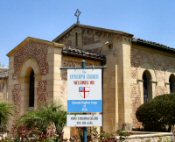 St. Alban's Chapel
Welcome!
Thank you for visiting the website of the Episcopal Campus Ministry @ UCLA.

We strive to be a witness to the Christian faith that engages peopleís hearts and minds. We offer opportunities
for Christian worship in both traditional Episcopal parishes and in a student focused service of Evening Prayer
to learn about and discuss issues of importance for Christians, especially the intersections of faith and intellectual inquiry
to participate in an inclusive Christian community for social events and fellowship
to explore and live out our baptismal calling in service to God and our neighbors
for pastoral counseling and conversation with the Chaplain
Please check out the Activities link to learn more about our current schedule of events and find the most recent email update from the chaplain on his blog.

Stop by St. Albanís and visit us in person soon!


Our home is St. Albanís Episcopal Church on the corner of Hilgard and Westholme. The chaplain, the Rev. Michael Fincher, is generally in his office Tuesday through Friday. Feel free to stop by, or contact him to make an appointment. He can be reached at 310.208.6516 x26, or by email at episcopal@ucla.edu.
The chaplain sends out a weekly e-mail newsletter with information on the week's events, job and service opportunities, and more. If you would like to receive the weekly e-mail newsletter, send an e-mail request to episcopal@ucla.edu.